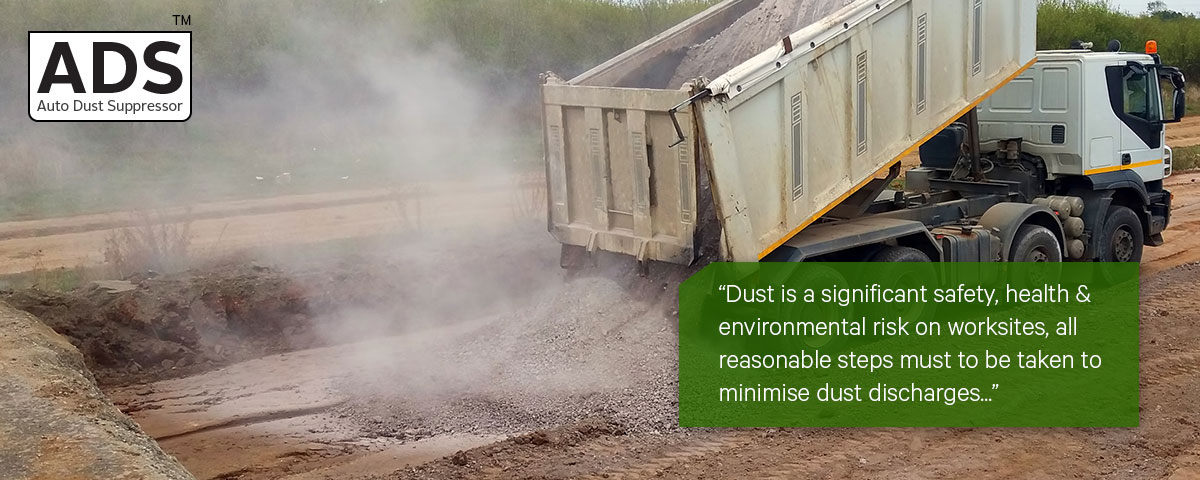 Auto Dust Suppressor (ADS)
The Auto Dust Suppressor (ADS) is an innovative device designed to control and minimize dust discharges within the property boundary of the work-site using an automated sprinkler system. It is a solar powered, versatile and adaptable product which can be activated by wind speed, wind direction, vehicle movement, timer, manual override and wireless remote control.
The primary function of the ADS unit is to monitor wind conditions and activate a low pressure sprinkler system on a predetermined wind speed (5 metres per second is an average baseline activation speed).
In case of no reticulated mains pressure water on the site, the ADS system can activate an electric start generator or pump to initiate the water delivery system. The ADS unit including up to a 200 meter length of the sprinkler system can be easily re-positioned manually by 2 people.
How it works?
When vehicle traffic is the main source of dust emissions on your work site, the system can be set to activate using a motion sensor. Additional standard options include a manual override, wind direction activation, remote control and a timer function which will turn the system on for between 1-10 minutes every hour. The system also has a rain sensor which ensures the unit will not activate if there is sufficient rainfall to provide natural dust suppression. It also has an optional wireless remote controlled activation switch for full user control. The unit can send data to, and be controlled by a webpage interface. Data can be downloaded to a USB storage device on site. Another unique feature of the ADS unit is an on-site weather station connection to record, display and share information with all interested parties.
This system is ideal for construction sites, unsealed roads and sensitive receiving environments where dust control is an important & responsible environmental mitigation response or a resource consent requirement.
Benefits:
Ensures minimal water consumption using motion, wind and rain sensors to activate the system
Adjustable timer function and both manual or remote control override options
Rain sensor cut off
Solar powered, robust design to provide a reliable, adaptable and versatile dust suppression system
Easy to reposition on site
Provides full user monitoring and control through wireless remote options with text alert capability
Improved data management through telemetry and can be webcam compatible
Onsite weather station connectivity